Research Grants
Grants are made annually in relatively significant amounts and have, to-date, helped achieve credible and tangible results in the fields in which the Foundation operates. Applications are reviewed by the executive committee and then vetted by the advisory board, which consists of some of the brightest minds in the respective areas of interest.
Previous recipients include Norman Siegel, MD, Vivette D. D'Agati, MD, Pierre Ronco, MD, Ph.D., Detlef Bockenhauer, MD, Ph.D., Susan L. Hogan, Ph.D., MPH, and Laurence H. Beck, Jr., MD, Ph.D.










TRIGGERS FOR MULTIPLE SCLEROSIS (MS)
MORE QUESTIONS THAN ANSWERS....

MULTIPLE SCLEROSIS IS AN AUTOIMMUNE DISEASE. CAN MS PATIENTS BE MORE VULNERABLE TO OTHER AUTOIMMUNE DISEASE OR DISEASES THAT HAVE AUTOIMMUNE COMPONENTS?
CAN MEMBRANOUS NEPHROPATHY (A DISEASE WITH AN AUTOIMMUNE COMPONENT) BE MORE VULNERABLE TO MS?
BOTH MULTIPLE SCLEROSIS AND MEMBRANOUS NEPHROPATHY ARE ASSOCIATED WITH CERTAIN ALLELES OF THE MAJOR HISTOCOMPATIBILITY COMPLEX AND AUTOANTIBODIES. IS THERE A COMMON THREAD?
CAN A CHILDHOOD ILLNESS BE A TRIGGER FOR MS?
WHAT ARE THE ANSWERS?
.
OUR SON WHO WAS DIAGNOSED WITH MEMBRANOUS NEPHROPATHY AT FOURTEEN. HE WAS ALSO DIAGNOSED WITH MULTIPLE SCLEROSIS RECENTLY.

WHAT ARE THE ANSWERS?
WE ARE DEDICATED TO FIND THESE ANSWERS.
JOAN HALPIN,
PRESIDENT OF THE HALPIN FOUNDATION
Advisors on Grant Selection Full Profiles >
William Couser, MD
Head, Global Outreach Programs (ISN-GO) at IInternational Society of Nephrology and Affiliate Professor of Medicine at University of Washington
Ronald Falk, MD
Chief, Division of Nephrology and Hypertension
Director, UNC Kidney Center
University of North Carolina
Ilya Hulinsky, MD, PhD.
Yale New Haven Health System
Hospital of St. Raphael
St. Vincent's Medical Center
Pierre Ronco, MD, PhD [BREAKTHROUGH!]
Chief of the Renal Division
Chief of INSERM Unit 489/702
Tenon Hospital
David J. Salant, MD [NEWS!]
Chief of the Renal Section and
Professor of Medicine
Boston University
Stuart Evan Seropian, MD
Associate Professor of Medicine,
Hematology and Oncology
Comprehensive Cancer Center
Yale School of Medicine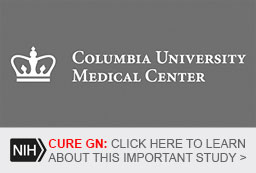 CureGN is an NIH-sponsored observational study on glomerular diseases which will include 600 patients with membranous nephropathy. The goals of this study at Columbia University are to advance the science behind our understanding of these diseases We hope to answer some of the most common questions patients have for their nephrologists:
• What is this disease?
• Why do I have this disease?
• What will happen to me?
• What effective treatments can you offer me?
Patients with recently diagnosed membranous nephropathy (a biopsy within the past 5 years) are eligible to participate in this important study. They will be asked to come to a study center once or twice a year, contribute blood and urine specimens for banking in a national biorepository, and answer questionnaires about their disease course.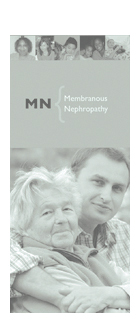 NIH worked with organizations including Halpin Foundation on the formation of NEPTUNE. One result was a brochure about Membranous Nephropathy and what patients and families can do.

Get the Latest News
Latest: Mayo Clinic is awarded 2015 Grant from Halpin Foundation





2018 Conference - Check Back for the Date: Third International Conference on Membranous Nephropathy, Mario Negri Institute, Bergamo, Italy.

Latest: CureGN Observational Study at Columbia University

Recent: Second protein associated with common cause of kidney failure identified
Recent: Up to 80% of patients with idiopathic membranous nephropathy have non-complement-fixing IgG4 autoantibodies to the phospholipase A2 receptor (PLA2R).

Recent: Childhood Stress Not a Likely Trigger for MS

Recent: Dr. Remuzzi becomes president of ISN

Recent:Dr. Salant receives ASN Hamburger Award

Recent: Drug for MS & Alzheimer's

Recent: Salt & Neurons

Recent: Autoimmune-Allergy Connection


Learn more on our
Grant Opportunities page

Download an Application and
submit by January 29 of each year.