David Salant receives
2013 Jean Hamburger Award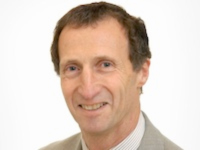 The Jean Hamburger Award recognizes outstanding research in nephrology with a clinical emphasis. The award was established in memory of Jean Hamburger, the "Professeuer de Paris," pioneer of clinical nephrology and founding president of the International Society of Nephrology (ISN).
David Salant, M.D. is the recipient of the award from the ISN. Dr. Salant is one of the earliest proponents of the notion that podocyte injury forms the basis of most, if not all, proteinuric kidney diseases. In particular, he was among the first to identify the podocyte as the primary target of injury in antibody-mediated glomerular disease. In a landmark paper in 2009 that was published in the New England Journal of Medicine, he and his colleagues described their discovery that a high proportion of patients with idiopathic membranous nephropathy have circulating autoantibodies to the M-type phospholipase A2 receptor on human podocytes.
Dr. Salant is an advisor on grant selection with the Halpin Foundation. Learn more here: http://halpin.org/grants-advisors.html