Ying Chen receives
2013 Kidney Research Grant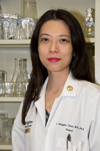 July 3, 2013 -- The Halpin Foundation and the ASN Foundation for Kidney Research have awarded Ying Chen, M.D., Ph.D., a Career Development Grant in Kidney Research. Dr. Chen received her medical training at Shanghai Medical University, China and Friedrich-Alexander-Universitat Erlangen-Nurnberg, Germany. She received a Ph.D. in Cell and Developmental Biology from Vanderbilt University. After serving as a Nephrology Fellow from 2007-2010, she joined the Renal Division of Washington University in St. Louis, MO, where she is currently an Assistant Professor in Medicine.

The grant will support research on "Chemical Chaperone Impact on Defective Glomerular Laminin Secretion and Congenital Nephrotic Syndrome." Laminins are major proteins in a network foundation for most cells and organs. The laminins are an important and biologically active part of the basal lamina, influencing cell differentiation, migration, and adhesion, as well as phenotype and survival.

American Society of Nephrology (ASN) and Halpin Foundation work together to award this grant. According to Dr. Ronald Falk, "the ASN Foundation for Kidney Research will focus all its efforts on helping kidney professionals apply their talents to make a positive difference in the lives of millions. On behalf of the kidney community, I thank those who have already provided their generous support to this important program."

Contact:
Lisa Bryan
Development and Grants Coordinator
American Society of Nephrology
1510 H Street NW, Suite 800
Washington, DC 20005
T: 202-640-4646
lE: lbryan@asn-online.org
.